William v. Stephen Cantrell. Affidavit of Lewis Summers
The affidavit of Lewis Summers of full age made this 6th of July 1807 at the instance and request of Noble Herbert the Attorney for the Plaintiff.
This affiant saith that somewhere about the 14th of February 1805 the plaintiff Negro William was sold by Danl Bishop his former owner residing in Alexandria when the sale was made to a Mr John Brown of the state of North Carolina as this affiant was informed by said Brown. That the said Brown conveyed the plaintiff said William to his place of residence as he the said Brown afterwards informed this affiant and from which place the said plaintiff William did elope and returned as the Deponent believes to Alexandria in a very short time thereafter in a short time thereafter and was by a certain Abner Wilburn sold to Mr. John Hodgskins of Alexandria as said Hodgskins informed this affiant on the first Day of June 1805 and which more fully appeares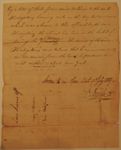 by a bill of Sale from said Wilburn to the said Hodgskins bearing date on the day last mentioned which was shewn to this affiant by the said Hodgskins This affiant has been in the habit of seeing the plaintiff said William in the service of the said Hodgskins and believes that he remained constantly in his service from the time he purchased him until within a short time past
Sworn to in Open Court 9th July 1807.
G. Deneale CC.
Lewis Summers Afft.
Negro William
v
Jno. Hodgkin