William v. Stephen Cantrell. Complaint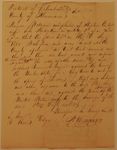 Negro William complains of Stephen Cantrell and John Hodgkins in custody &c. of a Plea For that the said Defts on the 16 day of February 1808 with force and arms To wit at the County aforesaid did beat beat wound and then and there did beat wound and imprison the said Pltff against the will of the said Pltff and without Reasonable cause against the laws of the United States for a long time to wit for the space of Ten days Kept and detained and other injuries to the said Pltff then and there did against the place & dignity of the United States and to the damage of the said Pltff Fifty dollars
Therefor he brings suit &c
N Herbert
J. Doe
R Roe
Pledges
Negro William
vs
John Hodgkins & Stephen Canterille
1809
Augt. Narro. filed & Not Guilty Jd.
1810 July Term 12: day
On motion a comm. is awarded the pltff to take Depo. of Lewis Summers in the County of       in Virga. to be read in evidence in this suit to be directed to any two magistrates in the said County the Interogatories to be put to the Defendant Deponant being first submitted to the Defendants Counsel.
1812 July Term 5 day
On hearing it is the opinion of the Court that the Law is for the Defendant & Judgment accordingly.