Lucy Dickson v. Charles Slade. Statement of Facts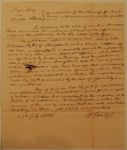 In obedience To the order of court in this case I have examined the evidence adduced by the petitioner, and find the following To be the state of the case.
The petitioner appears To have been held, by Colo. William Lyles of Maryland, as his slave. Whether she was born in Maryland, or originally carried there from Virginia or any other place, does not appear. it is stated on affidavit, by Frederick Koones, that the petitioner was imported from Maryland, into the county of Alexandria [strikethrough] years ago; how long ago, does not certainly appear. There is no evidence offered, by whom the petitioner was imported, or whether the importer ever Took the oath prescribed by the act of assembly concerning slaves.
I am of opinion That the fact of importation, being established, gives the petitioner, prima facie, a right of action; and that it is incumbent on the importer, or the holder of the petitioner, To bring themselves within the proviso of the act of shewing that the oath was Taken according To Law. All which is submitted.
W. Jones Jr.
20th July 1805.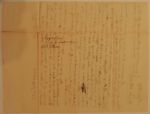 Negro Lucy
vs
Chs Slade
stat: & opin.