Lucy Dickson v. Charles Slade. Petition for Freedom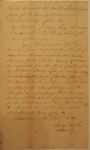 The Petition of Negro Lucy who is now held as a Slave by Charles Slade of the Town of Alexandria.
Your Petitioner Humbly begs leave to represent that about the Month of August one thousand eight hundred and one she was imported into the County of Alexandria aforesaid; from the State of Maryland by William Henry Lyles, and afterwards was sold to the said Charles Slade, and that she hath not been Registered as directed by the Laws of Virginia, She Therefore humbly prays that she may be permitted to sue in forma pauperis for her Freedom, and that Counsel may be assigned her as the Law directs. And she will every pray &c.
Alexandria 24th June 1805
Lucy by her Attorney.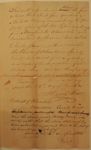 I am well informed, and [strikethrough] believe the fact to be so that about four years since a Mulatto Woman named Lucy the property of one of the Mr Lyle's was brought from Maryland to Alexandria, and I understand hath since been sold to Charles Slade. I have searched the Records of Alexandria County Court, and do not find any entry was made of the Importation of said Woman Lucy. And am therefore of opinion that she is entitled to her Freedom. Given under my Hand this 24th day of June 1805.
Henry Moore
Before me a Justice of the Peace for said County Came the above named Henry Moore, who made oath that the above statement by him subscribed is just and true to the best of his knowledge and belief
Sworn to this 25th day of June 1805 In Court
G Deneale CC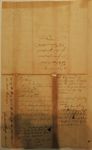 Negro Lucy
Petition to sue in forma pauperis for her freedom
24th June 1805.
Negro Lucy
vs
Charles Slade
Petition for Freedom
1805. June Term, 3d day on hearg. leave is granted to commence a suit in forma pauperis & Walter Jones Jr. is Assigned as counsel to prosecute the same, & ord: to report a Statement of facts before a Caps. Issues.
24th day. The Court upon Consideration of the facts stated in the cause, do order a Caps. to Issue against said defendant
December, Contd. June Contd.
1806. Feby Contd.
March April May Contd.
1806 July term 3d day on the Plaintiffs motion it is ordered that this suit be set for trial on the fourteenth day of this Term 29 day
Continued.
1807. April adjd. Session 12 day
Continued
July Term 9th day Nt. Gt. Jd & Jury sworn & affx & Verdict for Pltff for the Issues & One Cent Damages & Judgt. & Exceptions tendered by Deft. & reserved to him.
We of the Jury find the Issue for the Plaintiff and one Cent Damages
Charles McKnight foreman