Amey v. Joseph Thomas. Petition for Freedom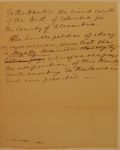 The humble petition of Amey a negro woman, shews that she is illegally detained in slavery by William Joy; Joseph Thomas. Wherefore she prays the interposition of this Honble Court, according to the Laws in such case provided.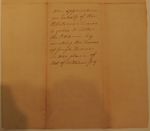 On application on behalf of the Petitioner leave is given to alter the Petition by inserting the name of Joseph Thomas in the place of that of William Joy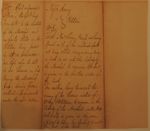 Negro Amey
vs
Wm Joy
Petition
1805. Novr Term, process not having Issued on a/c of the material facts not being stated, & Negro Amey being in Court, is ord: into the Custody of the Marshal, to remain til Secy be given or the further order of the Court.
On motion leave to insert the name of Jos: Thomas instead of Wm. Joy, & Petitioner to remain in the Custody of the Marshal, until bond & Security is given in the sum of $400 to have her for [illegible] to ansr the Ind:[?] of the Court.
1807. April adjourned Session, the plf. having been deld. to the custody of the Marshal and no facts Stated in the Petition being proved by aff. or otherwise ord: that she be deld. to Jos: Thomas on his Paying the Marshals fees, during her actual Confinement under the said order