Kitty & Harriet v. Nehemiah Hicks & Susanna Bacon. Answer of Susanna Bacon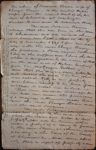 The return of Susanna Bacon wife of Ebenezer Bacon to the writ of Habeas Corpus from the Circuit Court of the District of Columbia at Washington directed to her and to Nehemiah Hicks
The said Susanna Bacon alleges that she was born in the Town of Alexandria and has resided there ever since her birth. That on the 27 day of November 1827 before her marriage with the said Ebenezer Bacon she purchased a slave named Catherine being as she supposes and believes the same which is designated by this name of Kitty in the said writ of Habeas Corpus from one McKenzie Talbot and that she has ever since held & yet holds the said Catherine [illegible] called Kitty as her property and believes herself to be bona fide entitled to hold her as such.
That since her said marriage she has held her under the provisions of a marriage settlement made between the said Ebenezer Bacon and her the said Susanna.
The said Susanna is advised that her right to the said slave which she claims and hold as her property cannot be affected in any manner by any trial Judgment or decision of your Honourable Court in any case wherein she was not seen named or did not appear as a party to contest any claim, or defend her right to the said slave & can not be tried, either under a pretext of a claim to freedom by this said slave, or otherwise, except according to the laws of this County of Alexandria. And more especially that a right of property can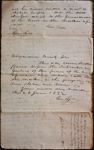 not be tried under a writ of Habeas Corpus. And she does therefore except to the Jurisdiction of this Court in the matter aforesaid.
Susan Bacon
Test
Adam Lynn
Alexandria County Ss
This day came Susan Bacon before this Subscriber a Justice of the Peace of the County aforesaid and made oath that the matters in the foregoing return stated are true.
given under my hand this 28 June 1832
Adam Lynn
The Return of Susanna Bacon to the Writ of Habeas Corpus from the Circuit Court of the Dist of Cola. to produce Negro Kitty.
fd 28 June 1832