Kitty & Harriet v. Nehemiah Hicks & Susanna Bacon. Writ of Habeas Corpus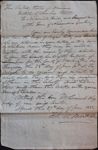 You are hereby commanded that you have the bodies of Negroes Kitty and Harriet who are detained in your custody as it is said, by whatever name they may be called, together with the cause of their detention before the Circuit Court of the District of Columbia fro the County of Washington, on Thursday the 28th day of June Inst. at 12 Oclock, to do receive and submit to what shall then and there be considered of them in this behalf. And have then and there this writ with your doing thereon.
Witness the Hon W. Cranch Chief Judge of our said Court.
Issued this 27th day of June 1832
Test W. Brent Clk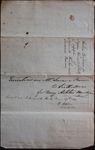 Habeas Corpus for Negroes Harriet & Kitty in possession of
Nehemiah Hicks served
Susanna Bacon
[illegible] on Mrs Susanna Bacon
C. Scott svd[?]
for Henry Ashton Marshal
Served on Nehemiah Hicks June 27th 1832
H Ashton
Marshal