Michael Shorter v. George Fenwick. Petition for Freedom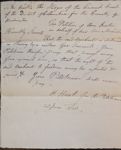 The Petition of Ann Shorter in behalf of her son Michael.
Humbly Sheweth.
That the said Michael is detained in Slavery by a certain Geo: Fenwick. Your Petitioner therefore prays that process may issue against him, so that the right of the said Michael to freedom may be asserted & proved, & Your Petitioner shall ever pray.
H: Hiort for the Petitioner
28 June 1808.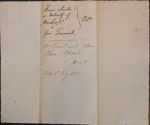 21
Ann Shorter in behalf of Michael
vs
Geo: Fenwick
Petn.
Mr Brent will please issue sbpoena
H: Hiort
Filed 1st July 1808.