Rebecca v. Lloyd Pumphrey. Petition for Freedom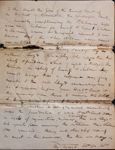 Humbly complaining the Petitioner negro woman Rebecca for herself & infant children William, Ann & Margaret, represents to your Honors that she & her children above named are entitled to their freedom. That nonetheless [torn page] in slavery & bondage by a certain Lloyd Pumphrey who refuses them that liberty & freedom, which of right is theirs. She therefore in behalf of herself & children above named prays that a subpoena may issue directed to the said Lloyd commanding him to be & appear before your Honble Court at the coming term, there to answer this petition & to be made defendant thereto. She also having want to apprehend a sale & removal immediately from the jurisdiction of your Honble Court prays a writ of injunction, injoining & forbidding the said Lloyd & his agents from removing the petitioner & her children as aforesaid. Hoping such other relief as may be meet in the premises, she thus ever prays &c
Tho: Turner solr for Petrs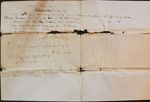 On this 24th day of Novr. 1824 personally appears before me justice of peace in & for the County aforesaid Thomas Turner & makes oath that on the Holy Evangely of Almighty God that he believes that Lloyd Pumphrey [?] the sale & removal, from the District, of the within named petitioner & children [torn page] in the Petition.
[torn page]
[torn page]
Let an injunction issue as prayed
B. Thruston
Wm. Brent esqr Clerk [illegible]
25th Novr. 1824
Injunction issued No. 326 Chancery Docket Rule Docket No. 1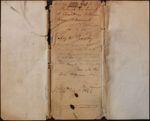 Dec. 24 Trials
424 880
Rebecca for herself & children William Ann & Margaret
vs.
Lloyd Pumphrey
Petition for &c
See No. 326 on the Chancery Rule docket.
But the papers belonging to that the case on that docket are not in place
W.C. 21 Aug. 1838
Mr. Brent,
Please file this issue subpoena &c.
Tho. Turner for petr
fd. 24th Decr. 1824