Lucy v. Stephen Cooke. Deed of Manumission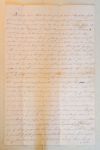 Know all Men by these presents that I Lyttleton Gale of Cecil County Maryland being the proprietor of one negro woman slave called Lucy and a negro boy slave her son called John at present in the Possession of Joseph Rogers and being desirous to grant freedom to the said negro slaves to take effect when they shall respectively attain the age of thirty years have therefore given & granted & by these presents do give and grant to the said negro slaves respectively named Lucy & John their freedom & Liberty the freedom of the said negro woman Lucy to take effect from & after the first day of January in the year eighteen hundred and eleven and the freedom of the said Negro Boy John to take effect from and after the first day of January eighteen hundred & thirty at which different times the said negro slaves will respectively attain the age of thirty years reserving to myself and to my assigns all right & power over the persons & services of the said several negroes until the respective periods aforesaid but from and after the per said periods respectively the said negro woman Lucy & her son John & all the issue of the said Lucy born after the first day of January eighteen hundred and eleven shall and may enjoy perfect liberty and freedom to all intents and purposes and in like manner as if they had respectively been born free reserving nevertheless to myself and to my assigns all right and power over the persons & services of all the children of the said Negro Woman called Lucy born before the said first day of January eighteen hundred and eleven until they shall respectively attain the age of thirty years when they are hereby declared to be entitled to full and perfect freedom and liberty as if they had respectively been born free. In Testimony whereof I have hereto (set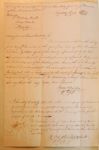 set my hand and affixed my seal this thirty first day of December eighteen hundred and two.
Lyttleton Gale (seal)
Witness
William Coale
Saml. Coale
Nat Reed
Maryland Cecil County ss.
Be it remembered that on the thirty first day of December in the year of our Lord eighteen hundred and two Lyttleton Gale of the County aforesaid party to the aforegoing instrument of writing personally appeared before me the subscriber one of the Justices of the Peace of the said County & State and acknowledge the same instrument of writing to be his Act & Deed according to the Act of Assembly in Such case made and provided In Testimony whereof I have hereto set my hand the day & year last aforesaid.
Jeremh. Baker
I hereby certify that the within and aforegoing Instrument of writing is a true and faithful copy from the original, deposited in the Clerks Office the 3d January 1803 for the purpose of being Recorded.
In Testimony whereof I have hereto Set my Hand and affixed the Public Seal of my Office this Twenty fourth day of January Anno Domini Eighteen hundred and three.
Jo Baxter Ca[?] Coty Court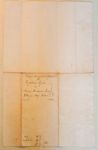 Copy Manumission
A.
Lyttleton Gale
to
Negro Woman Lucy & Negro Boy John
| | |
| --- | --- |
| Copy | 2/3 |
| Certificate | 2/6 |
| | 4/9 Cost |