Rachel v. Henry Jarvis. Jury Instructions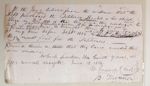 If the Jury believe from the evidence that the Deft purchased the Petitioner Rachel & her child Eliza in Decr 1811 & that they [strikethrough] were then residing & hired in the Town of Alexandria & District of Columbia & had been so for [strikethrough] upwards of a year & brought then to George Town in the same District at any time before Septr 1812, [strikethrough] with intent that they should (x) they must find for the Petitioners.
(x) reside therein & that that they have resided there ever since.
Which direction the Court gave, & Dft's Counsel excepts. June 18, 1814.
W. Cranch (seal)
B. Thruston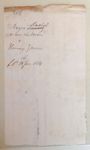 206.
Negro Fanny Rachel & her children
v.
Henry Jarvis
fild 18th June 1814