Matilda Smith v. Thomas Martin. Petition for Freedom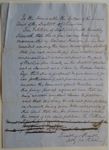 The Petition of Matilda Smith humbly sheweth that she is free, having been duly manumitted by Andrew Hanson by his deed recorded among the Land Records of this District that she hath nevertheless been arrested, and imprisoned, and is now confined in the jail of Washington County in the District aforesaid and is claimed as a slave by Thomas Martin Esqr: That she is prepared to give security for her forthcoming, and presence in Court to answer the demand of said Martin; and she prays process against him that he may answer her said claim to freedom, and that she may be released from prison on security being given to the satisfaction of this Court that she be present and abide the event of her said petition. The petitioner [illegible]
Bradley & Bradley
Atty for Petitioner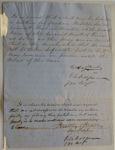 It is agreed that a suit may be docketted, a petition for freedom Matilda Smith against Thomas Martin at the present term of this Circuit Court, & tried as soon as the Jury are in Court that in the mean while that she need not be taken before the Justice but may remain in prison untill the trial of the Case
Bradley & Bradley
E C Morgan for Deft
It is clearly understood and agreed that no admission is made by either party by filing this petition, but each party is to make out his case according to Law.
Bradley & Bradley for Petitioner
E C Morgan for Deft.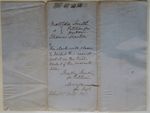 1751 617 362 249 172
Matilda Smith
vs
Thomas Martin
Petition for freedom.
The Clerk will please to docket this case, & put it on the trial docket of the present term.
Bradley & Bradley for Petitioner
Morgan for Deft
Filed 23d. Octo: 1857