Virginia Frances Gracon v. Caroline Amanda Jordan. Petition for Freedom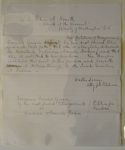 The petition of Virginia Francis Gracon infant by her next friend Peter Goolrick sets forth, that she is illegally detained in servitude by Caroline Amanda Jordan, and that she is entitled to her freedom. She therefore institutes this suit for her freedom and prays the service of notice thereof to the said Caroline A Jordan.
Walter Lenox
Atty for Petitioner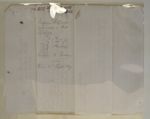 5 684. 261 263. 249. 167. 157 157 [strikethrough] 133 140 154
Virginia F. Garcon by her next friend Peter Goolricl
vs
Caroline A. Jordan
Petn. for Freedom
Filed 25t Septr. 1857.