George Gray v. Stephen Howison. Petition for Freedom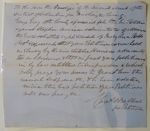 George Gray of the County aforesaid files this his Petition against Stephen Howison administrator of all & [illegible] the Goods & chattels, rights & credits of Mary Ann Potts decd & represents that your Petitioner is now held in slavery by the said Stephen Howison administrator for as aforesaid & that in fact your Petitioner is by law entitled to his freedom & respectfully prays your Honors to grant him the usual subpoena &c. & to hear & determine this his petition & your Petitioner will ever pay &c.
Chas S Wallach
for Petitioner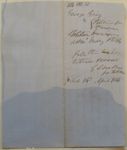 54. 122. 150
George Gray
vs
Stephen Howison admr Mary A Potts
Petition for Freedom
file this his petition & issue
C. S. Wallach
for Petitioner
Filed 14t April 1856.