Ellen Johnson v. Morris Adler. Jury Instructions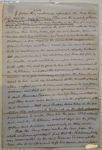 If from the whole evidence aforesaid the Jury shall find that the said Petitioner Ellen was the property of Thomas Turner the Father of the intestate Thomas Turner residing with her said Master in the Town of Georgetown & District of Columbia that the said Thomas Turner some time before the year 18 and in the year 1831, with her twin children then lately born, left her said Master, taking with her, her said two children, and went to reside with her husband a free negro in the immediate neighborhood of said Turner and kept house for her said husband, took in washing on her own account, openly declared that she and her said two children had been set free by her master, made contracts as a free woman, gave birth after she had so gone to live with her husband, to the Petitioners and paid the expenses of their birth and nurture as a free woman, and from the time she so went to live with her husband to the month of August 1849, passed and acted as, and claimed to be a free woman, and that all the facts aforesaid were known to said Thomas Turner in his life time, and that she and they never were reduced into the possession of the said Turner: that the said Turner some time in the year 1838 or 1839 removed to Frederick in the state of Maryland & continued to reside there till the year 1849 when he died, and the Petitioners went at large till the filing of their said petitions respectively in these causes;
Then the Jury may under the Law, from the whole evidence aforesaid find that the Petitioner Nelly was manumitted by the said Thomas Turner at the time she so as aforesaid left his service, and is free: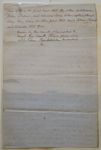 and if they so find and that the other petitioners John, Robert, and Louisa were born after that time they may further find that said John, Robert and Louisa are free.
Given by the court, & Excepted to. and the Court then gave in addition the paper marked C.