Ellen Johnson v. Morris Adler. Defendant's Jury Instructions (C) & Petitioner's Bill of Exceptions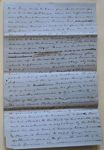 C
If the Jury shall believe from the evidence aforesaid that the petitioner & twin her infant children Phebe & Rachel were in the year 1831 the slaves of Thomas Turner Junr, and his sisters and were living as such in his family in Georgetown. That about that time the said Turner permitted the petitioner, at her solicitation to leave his house taking with her her said twin children, & to live as his slave with her husband a free negro man in the same town [strikethrough] or the slave and that the petitioner afterwards up to the death of the said Turner Junr which happened in the year 1849. & by virtue of such permission lived with her said husband & worked for herself & children & while so living with her husband the said Turner, about the year 1840 being about to move to Baltimore Frederick town in the state of Maryland with his family to reside did in the exercise of his authority as master of the said Ellen & her children, take the said child Phebe into his possession & carry her to Frederick, & afterwards, in the exercise of a like authority removed the said Rachel to Frederick & held them as his slaves to the time of his death with out resistance or objection by the Petitioner; that the said Rachel having been permitted by the said Turner to visit Georgetown within a year before the death of the said Turner the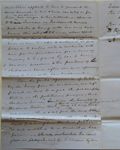 said Ellen applied to him to permit the said Rachel to live & hire herself in Geo Town as his slave; her wages to be collected & paid to the said Turner in Frederick town
that while so living with her said husband the said Petitioner, when speaking of the said Turner, recognized him as her Master & entered into or proposed to enter into a contract with him for the purchase, for a sum of money to be paid by her to him, for her own freedom, & the freedom of her children born after the so as aforesaid, went to live with her husband.
Then the facts aforesaid, if believed by the Jury from the evidence, are sufficient in law to repel the presumption stated in the petitioners prayer, that the said Turner Junior, or the Executor of the said Turner Senr, or that the distributees of said Turner Senr had at any time manumitted & set free the said Petitioner by deed or otherwise & that without such presumption the said petitioner is not entitled to a verdict in her favour. Which instruction the Court gave as prayed, and the Petitioner by her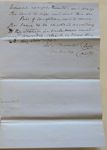 Counsel excepts thereto, and prays the Court to sign and seal this her Bill of Exceptions, and to cause the same to be enrolled according to the statue in such case made and provided. Which is done this 26 day Novr 1853.
Jas S. Morsell (seal)
Jas. Dunlop (seal)