Ellen Johnson v. Morris Adler. Petitioner's Bill of Exceptions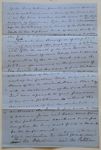 If the Jury believe from the evidence aforesaid that the petitioner was a slave of Tho Turner Senr in his life time & at his death came to the possession of Trueman Tyler his Exr, who returned and that the said Exr did return the petitioner as a slave of the Testators Estate to the orphans court of Wash: County in this district & died without having made any [strikethrough] distribution there of or of any part there of among the next of kin of said Turner and no voluntary distribution thereof was made among [illegible] next of kin. and after the death of the said Executor no further admr of said Estate was taken out or granted by the said Court, & that the petitioner remained in the possession of Tho Turner Junr son & one of five children & distributees of the said Turner Senr as part of his fathers Estate subject to the claims of his co-distributees. then no act or declaration of the said Turner Junr can operate to give freedom to the said petitioner, on without the concurrence of his co-distributees or authorise the Jury to presume a deed of manumission had been ever to the petitioner & without such a presumption the Jury must find a verdict for the defendant.
given by the Court
Which instruction the Court gave as prayed agreed by the Defendant and the Petitioner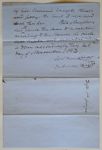 by her counsel excepts thereto and prays the court to sign and seal this her     Bill of Exceptions and to cause the same to be enrolled according to the statue in such case made and provided which is done accordingly this 26th day of November 1853.
Jas. S. Morsell (seal)
Jas. Dunlop (seal)