Mary Taylor et al. v. James M. A. Mushett. Petition for Freedom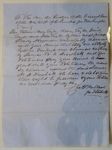 The Petitioners Mary Taylor, Henry Taylor, Emily Taylor and Ida Taylor by their next friend Sandy Alexander respectfully represent unto your Honors that they are illegally held in bondage and claimed as slaves by James M A Mushett and your Petitioners pray your Honors to have grant unto your Petitioners the usual subpoena against the said James M A Mushett & to hear & determine their right to freedom & your Petitioners will ever pray &c.
Chas S Wallach
for Petitioners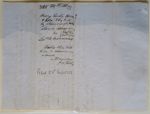 305 227. 197. 150 179.
Mary. Emily Henry & Ida Taylor by their next friend Sandy Alexander
vs
Jas M A Mushett
Petition for Freedom
File this Petition & issue as above
C S Wallach
for Petitioners
Filed 28th Sept 1853