Walter Thomas & Dennis Thomas v. Alexander Scott. Deposition of George H. Gloyd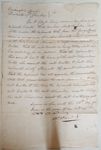 Geo H Gloyd being sworn in due form of law Deposeth & saith, that sometime about the latter part of the winter, the deponent took from Mr. George Craig's house in consequence of an advertisement which appeared in the Independent American, a negro man named Walter. That the said Walter on being taken said he was contending for his freedom; That this deponent then carried him to the house of the said Alexander Scott, who reassured the said Walter, & paid this deponent shortly afterwards the reward advertised That this deponent does not remember the conversation that took place between the said Alexander & the said Walter, at the time this deponent delivered the said Walter to the said Alexander, except that the said Alexander cursed the said Walter a good deal.
Sworn in open court this 23rd day of June in the year of our Lord eighteen hundred and ten.
Wm Brent Cl.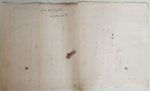 Geo. H. Gloyds Deposition