Winnie Cryer v. Elizabeth Cocke & Peter Hoffman. Order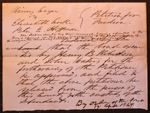 The Defendants by their counsel having assented to the Bond offerred in this case, but objecting to the sufficiency of the obligors, the court being satisfied of their sufficiency do order Ordered by the Court that the bond executed by Henry B Robertson and John Waters for the forthcoming of the Petitioner be approved, and filed & that the above petitioner be released from the prison of this County & the custody of the Defendants.
By order of the Court
17 April 1849.