Winnie Cryer v. Elizabeth Cocke & Peter Hoffman. Motion for Continuance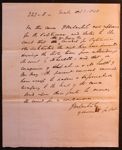 In this cause JM Carlisle now appears for the Petitioner and states to the court that the the Mr May the counsel for Petitioner who initiated the suit has been prevented during the whole term from attending the court by ill health: and that in consequence of that absence & ill health of Mr May the present counsel cannot have access to papers & information necessary to the trial of the cause.
And upon these facts he moves the court for a continuance.
J. M. Carlisle of consul for Petr