Winnie Cryer v. Elizabeth Cocke & Peter Hoffman. Jury Instructions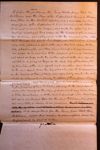 If from the whole evidence the Jury shall find that the Petitioner was the slave of the Defendant living in Alexandria (then in the District of Columbia) and was by the permission of the Defendant hired herself out in Alexandria and received her wages, and with the assent of her mistress employed those wages in the support of herself and her children, and afterwards with the consent of the Defendant through her agent P.E. Hoffman, and while Alexandria still formed a part of the said District came to the City of Washington and there hired herself out and received her wages to be applied to the support of herself & children and went at large with the written assent of the said agent, and while so going at large in the said City of Washington by direction of the said agent sent one of her said children to the said agent from the City of Washington to Alexandria in the month of May 1844, and repeatedly visited the said child in Alexandria during the space of three years there next ensuing, and during all that period of time and up to a few days before to the bringing of this Petition, always to the said agent submitted herself as the slave of Defendant and never to him or to his knowledge, or to the said Defendant or to her knowledge set up or pretended that she the said Petitioner was free or had any title or claim to her freedom. it is competent for the Jury to find that the Petitioner never did receive manumission from the Defendant by deed or will.
granted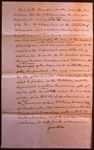 But if the Jury find further from the said evidence that the petitioner was the slave of the Defendant residing with the in and being an inhabitant of the town of Alexandria, in the District of Columbia, and was permitted by Defendant to go at large and hire herself and receive her own hire and to apply the same to the support of herself and children as the slaves of Defendant and afterwards by consent of Defendant came to the City of Washington to reside for the purpose of maintaining the said herself and said children for the benefit as the slaves of the Defendant, and for the use of the Defendant, then such removal into the City of Washington does not confer the right to freedom on the Petitioner, and the Defendant is within the provision of the 9th section of the Act of 1812, unless the Jury shall further find that the Defendant prior to the said removal of said Petitioner to said City of Washington, had removed from the said County of Alexandria with intent to reside elsewhere and to relinquish her residence in said County of Alexandria
granted.