Winnie Cryer v. Elizabeth Cocke & Peter Hoffman. Petition for Freedom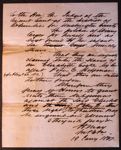 The petition of Winny Cryer for herself and as next friend to her infant son Turner Cryer humbly shews
That they are unjustly claimed to be the slaves of one Elizabeth Cocke by her agent Peter E. Hoffman (of Alexa. Co. Va.)
That they are entitled to their freedom.
Wherefore they pray yr Honors to grant unto them subpoenas against the said Elizabeth and the said Peter E. that their right of your petitioners to freedom may be enquired into & secured & they will pray &c.
H. May for Petrs.
19 Jany 1847.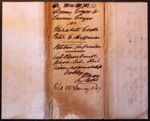 168. 148. 83 490 227. 162.
Winny Cryer & Turner Cryer
vs
Elizabeth Cocke
Peter E. Hoffman
Petition for freedom
Col Brent will please file this & issue against Defts
& obliged,[?]
H May for Petrs.
Filed 22d January 1847