William Kennedy v. Clarissa Purnell. Certificate for William Kennedy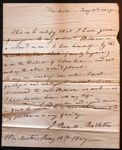 Winchester. Jany 12th 1837
This is to certify that I have given permission to my servant William, a colored man, to hire himself by the month in this state, (namely Virginia), or in the District of Columbia, and not out of the above named places.
To any one wanting an active, honest, faithful and intelligent servant, I can recommend the said William, as such, as I have known him all my life.
William is as good waiter and a good driver; in fact he would be a desirable servant to any gentleman or any family.
I. Purnell. Pendleton
Winchester. Jany 12th 1837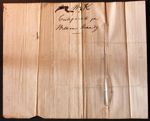 A W K
Certificate for William Kennedy