William Kennedy v. Clarissa Purnell. Agreement of Counsel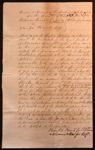 It is agreed that a petition as above shall be docketed on the Trial Docket of November Term 1838 of the above court, in time for trial during that Term. Provided that previously thereto I. Purnell Pendleton, against whom there is a like petition for freedom of the same petitioner returnable to the same Term, and who disclaims ownership, shall suffer judgment to pass against him. & provided also that the petitioner shall not forfeit his right to compel an answer by the defendant Clarissa Purnell to any bill of discovery that he may choose to file against heir before any trial shall be had. It is farther agreed that either party to the above petition to be docketed, may from this time proceed to take the testimony of witnesses, including I. Purnell Pendleton, who reside out of the District of Columbia, (to be read in evidence in the trial of said cause) before any justice of the Peace where the premisses may be, on interrogatories & cross interrogatories to be settled by the parties.
Brent & Brent for Petitioner
Clement Cox for deft.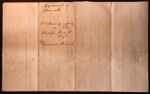 Agreement of Counsel
Wm Kennedy or Condy Petr
vs
Clarissa Purnell deft
Agreement of Counsel