Trueman Giberson v. John Dulin. Petition for Freedom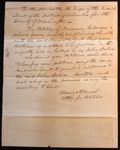 The Petition of Trueman Giberson, a colored person, humbly complaining sheweth unto the said Honorable Court that your Petitioner is entitled to his freedom, and is unjustly held in bondage by one John Dulin who claims your Petitioner as his slave.
Wherefore your petitioner prays the said Honorable Court to grant a subpoena to the said John Dulin directed, and such relief in the premises as may be according to law.
Cleary & Warner
Attys for Petitioner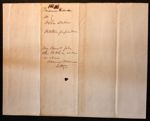 146 106
Trueman Giberson
vs
John Dulin
Petition for freedom
Mr. Brent, file this Petition & issue as above
Cleary & Warner
Attys.