Sarah v. George Kirby. Certificate of Marriage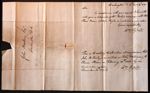 Washington D.C. Decr. 14th, 1837.
Sir,
In compliance with your request I herewith send you a Certificate of Mr. Kirby's marriage with Mrs. Elenor Moore, not Miss Naylor as mentioned in your notice.
Your's respectfully
Wm Ryland
This is to certify to all whom it may concern, that John B Kirby was united in Holy Matrimony to Elenor Moore, on February 19th 1828: by me.
Given under my hand December 14th, 1837
Wm Ryland
John Marbury Esqr
Washington D.C.
Mr. Foot[?] will take this to the Court Room