Sandy Weaver v. George Bomford. Petition for Freedom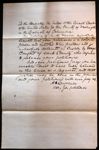 The petition of Sandy Weaver respectfully sheweth that your petitioner is a colored person and entitled to his freedom and is unlawfully detained in Custody by George Bomford of said County who refuses to release your petitioner.
And your petitioner prays your honourable Court to have such action in this case as is required, and that justice may be done in the premises and your petitioner will every pray &c.
A.H. Lawrence
Atty for petitioner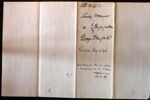 25 78 75. 29.
Sandy Weaver
vs
George Bomford
Pet. for freedom
Filed 11 May 1846.
Col. Brent. Please issue a subpoena on the within
A.H. Lawrence
Atty for Plff