Rebecca Hobbs v. Thomas Magruder & Washington Robey. Petition for Freedom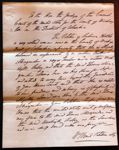 The Petition of Rebecca Hobbs a neg colored woman now in the County of Washington Dist. of Columbia, represents that she is illegally detained in confinement by a certain Thomas Magruder a negro trader and a certain Washington Robey, and that the said Thomas Magruder claims her as his slave for life and intends to carry her beyond the Jurisdiction of your Honors Court and that she is entitled to her freedom and is being oppressively and illegally claimed as a slave by the said Thomas Magruder. Your Petitioner therefore prays yr Honors that the United States writ of subpona may issue to the said Thomas Magruder and the said Washington Robey, as the Law directs and as in duty bound will ever pray &c.
Wm L Brent Petitioners atty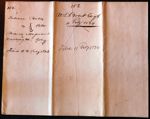 152
Rebecca Hobbs
vs
Thomas Magruder & Washington Robey
Peto
Filed 11th Feby 1834.
152.
W. L. Brent Esqr.
11 Feby 1834
Filed 11 Feby 1834