Polly Parker v. Cushing Daniel. Answer of Cushing Daniel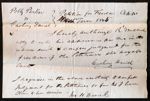 I hereby authorize Rd. Wallach atty to enter his appearance for me in the above suit & confers judgment for the freedom of the Petitioner. she pay all costs.
Cushing Daniel
I acquiese in the above authority to confer Judgment for the Petitioner so far as I have claim. to her services.
Jno. H. Daniel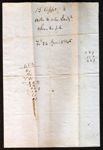 15 Apps.
Order to enter Judgt. when co. pd
Fid. 24 June 1845.