Nelly Lemon v. John H. Bayne. Motion for New Trial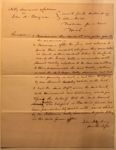 Reason 1 Because the verdict was given against the evidence.
2 Because, after the Jury had retired to find their verdict, & before they were called in Court & their verdict taken by the Court, one of the Jurors held a conversation with Daniel Moxley, relative to the case committed to them, & examined the said Moxley, whether or not the said negro Nelly Lemmon had lived in his family or not, as had been testified by one Samuel Moxley Webster on the Trial.
3 That the said Deft. since the said trial hath discovered new testimony which justified the belief that the said Samuel Moxley Webster who testified in the said cause had been fraudulently death with, paid & bribed by the Petitioner Nelly Lemmon to give testimony in the said Cause &c.
John Mayberry for the Deft