Mary Duckett v. John McCutchen & John H.G. McCutchen. Petition for Freedom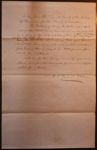 The Petition of Mary Duckett, respectfully sets forth, that she is claimed and unlawfully held as a slave in the City of Washington, by one Benjamin O. Sheckles John McCutchen and John H.G. McCutchen, and she prays that your Honours would take her cause into consideration, and upon a full hearing thereof, grant her that freedom from which she is withheld.
And she further prays security against violence, or a forcible removal pending her application for a trial.
D.A. Hall for Petitioner.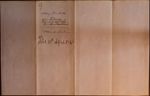 9.
Mary Duckett
vs
John McCutchen & John H.G. McCutchen
B. O. Sheckles
Petition for freedom.
Filed 10th April 1848