Richard B. Alexander v. Moses Graham. Richard B. Alexander to Clerk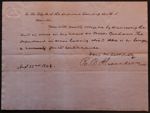 To the Clerk of the Supreme Court of the U.S
Dear Sir,
You will greatly oblige me by dismissing the suit in error in my name vs Moses Graham. The Defendant in error having died there is no longer a necessity for its continuance.
Very respectfully
R. B. Alexander
Augt 22nd 1842.
No 13.
R. B. Alexander
Order to dismiss suit against Moses Graham
Filed 25th Aug: 1842
Clerk of the Supreme Court U.S.