William Fenwick v. Lansing Tooker. Depositions of Ellen Linkins, Mary Gates, and Mary Ann Goddard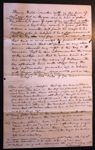 Henry Ould makes oath in due form of law & says that in the year 1831 on the 23d of May he hired a yellow boy named William about 10 or 12 years of age, of his mother a yellow woman; & kept him nearly 2 years vizt till about feb. 1. 1833 at two dollars a month, and paid his wages to his mother, who he believed to be a free-woman, & he believed also that the boy also was free. and that he never, during that time or since, until the present time, knew or heard that W. Wilson or any other person or any other person claimed any right to the boy or his services. That he does not remember the name of the mother, and that he never hired but one colored boy of the name of William. The boy afterwards lived with Major Barry the late postmaster general, and he believes with Major Seldon. Mr Ould went to the gaol to see William & says he is not the boy that he hired. Perhaps. Robt Ould of Geo. Town
Ellen Linkins testifies that she has known Clara abt. 4 years, she has lived in this depos neighborhood in Washn next door to Wit. Clara always passed as a free woman. Wit. also knew William, always thought he was a free boy. he lived at Mr. Howard's the apothecary. he went about publicly. never knew him to be secreted. has seen him often in the market. never knew or hard that Mr. Wilson claimed him or his service until a few days ago.
Mrs. Mary Gates lives in the same house with Mrs Linkins. & knows the same & now more.
Miss Mary Ann Goddard lives in Geo. Town. has known Clara & Wm. abt. nine years. aft always passed as free while she new them. never knew or heard that Mr. Wilson claimed the boy or his services till last Saturday.
The above were sworn in presence of Mr Tooker, who sd he wd permit the depositions to be used. W. Cr. 19th Novr 1835.
Mr Wallach, being sick, adjourned till next Monday (22d)
W. Cranch.