Lucy Williams v. George Hope. Petition for Freedom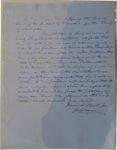 The petition of Lucy Williams formarly Lucy Bright, respectfully sets forth that she is of right a free woman of colour, and justly entitled to her freedom, but that a certain George Hope of Norfolk, or Hampton Va. under pretence that she is his slave, or a slave belonging to the estate of George Hope Sen. late Portsmouth Va. seeks to claim and hold, or dispose of her as his slave or the slave of the said estate: whereas your petitioner represents that she is well entitled to her freedom, and she prays that the same may be inquired of and her rights duly awarded to her, and she prays the protection of your Hon. Court, till judgment on this her petition shall be finally pronounced.
David A. Hall for petitioner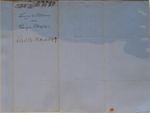 145. 164. 139. 119. 161. 113. 235 160. 126. 194. 72. 87.
Lucy Williams
vs.
George Hope
Filed 14 March 1849.