Hiram Hunt v. Nelson Conrad, William Gadsby, & Augustin Newton. Disclaimer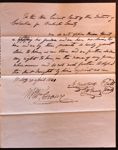 We do not oppose Hiram Hunt in opposing getting his freedom and we have no claim to him and we by these presents do hereby quit claim to him, as our slave and we further absolve any right to him, in the [illegible] of any person whomsoever and do not wish further to defend the suit brought by him against us.
A Newton (seal)
W. Gadsby (seal)
Witness 30 April 1841.
William Crowe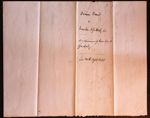 Hiram Hunt.
vs.
Newton & Gadsby &c.
Disclaimer of Newton & Gadsby
fd. 30th April 1841