Henry Shelby v. Thomas D. Owens & Jesse Brown. Petition for Freedom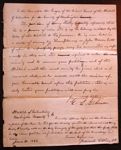 The petition of Henry Shelby humbly represents that he is a person of color and is as he believes entitled by the laws of the said District to his freedom. He is now held in a state of slavery by Thomas D. Owens or Jesse Brown, both of whom he respectfully prays may be summoned as defendants in this suit, and caused required to enter the usual security not to remove your petitioner out of this District until the usual security be given, that such removal shall not be made until the decision of your honorable court upon this petition. And as in duty bound your petitioner will ever pray &c.
Jeremiah Elkins
G. L. Giberson.
District of Columbia
Washington County
Personally appears before me the subscriber a Justice of the Peace in and for the County aforesaid the above named Henry Shelby & making oath on the Holy Evangely of Almighty God that the facts stated in the above petition are just & true to the best of his knowledge and belief.
Sworn before me Jeremiah Elkins J. P.
June 11. 1833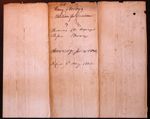 60. 71.
Henry Shelby's Petition for freedom
vs
Thomas D. Owens & Jesse Brown
Filed 19 June 1833.
Filed 3d May 1834.