Frederick Mortimer v. Hudson M. Garland. Summons of Hudson M. Garland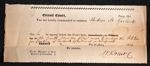 You are hereby commanded to summon Hudson M. Garland that he be appear before the Court here, immediately, as Witness for on the fourth Monday of Novr next to answer the Petition for Freedom of Frederick Mortimer and so forth.
Issued 2 day of May 1842.
By Order, W. Brent. C
To the Marshal of the District of Columbia.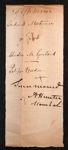 29 Apps Nv 1842
Frederick Mortimer
vs
Hudson M. Garland
Sub
Pet. for Freedom.
+
Summoned
A Hunter
Marshal