Ellen Trunnell & Milly Ross et al. v. Henry B. Robertson & Daniel Keene. Special Verdict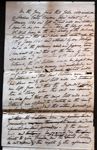 We the Jury find that John Marshall of Loudoun County Virginia died about 6th of January 1840 and left us his last will and testament signed in his own hand writing, the body of which sd Will being in the hand writing of the subscriber Witness and that said Will was is dated upon the 1st of Jany 1840 and attested by one Witness and is in the following words and figures[?], towit (here insert it) and that at the time of the execution and publication of sd last will and testament, the sd testator was in his perfect senses[?] and of a sound, will, memory and understanding and competent in every way to make sd last will and testament and that said Petitioners were [illegible] his slaves and by said last will and testament were left free and that the Defendant detained them in slavery when this suit was [illegible]. We [illegible] find that the said last will and testament was offered to Probate in the County of Loudoun aforesaid and that certain proceedings were had thereon, to wit (here insert the record) and that the Petitioners were no parties to said proceedings, their rights makes said will represented in said proceedings. If the said Will and testament be executed as the Law directs to give freedom as a will or as an other Instrument of [illegible] and the said Petitioners be not deprived of their rights by the aforesaid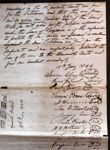 proceedings in the sd probate Court we find for the Petitioners and that they are free and so give our Verdict and but if the said Will or instrument of [illegible] be not good for the purpose aforesaid under the Laws of Virginia or if the refusal to probate the said will as aforesaid is conclusive against the said Petitioners in this suit we find for the Defendant and we respectfully submit the Law of the case to the Honorable Court and find our verdict accordingly.
18th Jany 1844
Isaac Clarke (seal)
Isaac S.[?] Larrick (seal)
Saml Denny[?] (seal)
Thomas Orme (seal)
D Horning[?] (seal)
Len C. Bootes (seal)
Gregory Ennis (seal)
Louis Beeler (seal)
H H McPherson (seal)
Joseph S Clarke (seal)
W. N. Waters (seal)
Benjamin Burns (seal)
540 414 446 126.
Special Verdict
18th Jany 1844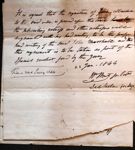 It is agreed that the signature of John Marshall to the said will, is proved upon this trial [illegible] by the subscribing witness and other witnesses well acquainted with his hand writing, to be the proper hand writing of the said John Marshall and that this agreement is to be taken as part of the special verdict found by the Jury
22 Jan. 1844
Wm Brent for Petrs
Jas Hoban for Deft
Filed 22d Jany 1844