Ellen Trunnell & Milly Ross et al. v. Henry B. Robertson & Daniel Keene. Robert J. Brent's Argument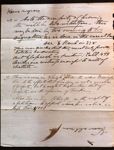 2[?] — as to the necessity of proving the will by two witnesses — this may be done by two swearing to his signature as is done in the case at hand
see 6 Rand in 338
This case decides that they must only prove testators handwriting
But Glasscock vs Smither, Call. 479 decides one witness enough to will of chattels.
3 There is a case in 9 Leigh 521 under the indese Emancipation, to the effect that freedom is not a question of property, but a right higher than that of property. see the opinion of Tucker
Also Lee vs Lee Peters R on the right of a petitioner to appeal where his value is less than $1000.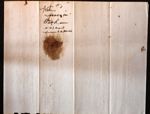 Keens negroes in Wash.
Mr. R. J. Brents reference to authorities