Elizabeth Smith v. James Birch & John Armfield. Petition for Freedom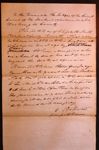 The petition of Elizabeth Smith Respectfully Sheweth: That your petitioner is entitled to her freedom, and is held in bondage by Stephen Franklin James Birch John Armfield who are about to send her out of, and beyond the District aforesaid.
Your Petitioner therefore prays You Honors to grant her the United States Writ of Subpoena to be directed to the said Franklin & Armfield, and such other & further relief in the premises as your Honors may deem just and right, and she as in duty bound will ever pray.
G. L. Giberson for Petitioner.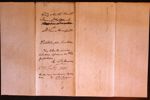 261
Elizabeth Smith
vs
James Birch Stephen Franklin & John Armfield
Petition for freedom.
The clerk will please issue on this petition.
G. L Giberson
fd. 12 Feby 1835
Enter me as security for fees.
G. L Giberson