Barney Montgomery v. John R. Bronaugh. Motion for New Trial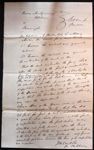 The Petitioner, by J M Carlisle his attorney Moves the Court for a new trial
1t because the verdict was against evidence
2d because the verdict was against the instruction of the court on this:
That the court exhibited the Jury that upon the proof of the fact & importation from Virginia into the county of Washington within the first section of the statute they must find for the Petitioners unless it should be further proved that such importation was at the time of the removal of the [illegible], or within one year thereafter. And that the burden of the proof thereof, was upon the defendant.
Whereas some of the Jurors sworn in the cause have [illegible], that they did not find the fact of such importation within a year to have been proven. And the fact of importation within the first section as was admitted, and fully proven, upon the trial so that the Jury wholly disregarded the instruction of the Court as to the onus probandi, and found against the petitioner because the time of his importation was uncertain.
J M Carlisle for petitioner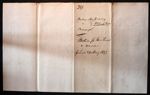 290
Barny Montgomery
vs
Bronaugh
Petition for Freedom
Motion for New Trial & reasons.
filed 24 May 1843