Ann Bell v. Gerard T. Greenfield. Petition for Freedom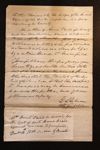 The petition of Anne Bell, for herself and her two children, Daniel and David respectfully Sheweth: That your petitioner is entitled to her freedom and is claimed and held as a slave for life by a certain Gerard T. Greenfield.
Your petitioner therefore prays your honors to grant her the United States Writ of Subpoena in the usual form to be directed to the Marshal of the District of Columbia, so that the said Gerard T. Greenfield may be summoned to answer this petition, and your petitioner will pray.
G L Giberson
Atty for Petitioner
Mr Brent I will be security for the cost of suit Anna Beall against Gerrard T Greenfield
Decbr 18th 1838 Susan G Beall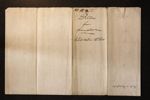 31 109. 35. 182.
Petition for freedom
Filed 24 Decr. 1836
Bell v Greenfield