Harry Wigle et al. v. George Kirby. Deposition of Joseph Nally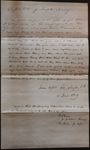 I was well acquainted with Capt John B. Kirby and in his employment in his farm a great many years since, I remember his negro boy Harry, he was then an infant, when I was eighteen years old I left Captain Kirby, and remained about till for about two years when I returned. I cannot remember the year when I left him, but I distinctly recollect that I was about eighteen years of age and that Harry was then about two years old. I have known Harry from that time to this and feel satisfied that he is not at this time more than forty five if as much. I am not quite certain as to my age but I am somewhere between fifty eight and sixty years old, and Harry I believe is at this time between forty four and forty five years old.
Sworn before Geo. Naylor J. P.
15 June 1829
Agreed that the foregoing deposition shall be reced in Evidence subject to all[?] legal exceptions.
R.S. Coxe for petitioner Harry
H. Ashton for Deft.