Abraham Smith v. John Lyons. Defendant's Bill of Exceptions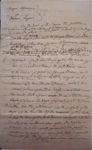 On the trial of this cause the petitioner (a negro and a native[?] born slave of Virginia) to prove the issue on his part proved by a witness that the Deft himself removed to Georgetown in the District of Columbia, from Virginia some time on the 2d of June in the year 1813, and has resided here ever since having hired[?] a house in Georgetown in the district & removed his wife & whole[?] family into it in May in the same year, and the residue of his family in June aforesaid. That some time after his removal (but how long after the witness has no recollection) the petitioner came to the house of Deft in Georgetown, and has ever since been held by deft as his slave: and here the petitioner rested his case: whereupon the Deft insisted & moved the Court, that, upon such the said testimony standing alone, the Deft was not put to prove either that the petitioner was the property of the Deft at the time he of the removal of the latter or that the time of the petitioner's removal into this County was within a year after the Deft's removal: But the court overruled the point so insisted on by Deft and decided that it was not competent for the Jury to infer from said evidence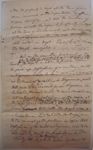 either the property in Deft at the time of his own removal, or the importation within a year thereafter: and that the burden of proving as well the original property in Deft at the time of his removal, and the importation of the petitioner within the year [illegible] still rested on Deft. To which decision the Deft. excepts.
And in the further progress of the trial after the petitioner had produced & read in Evidence a letter from the Deft's agent Elijah Chamberlain in these words, the Deft, is order to prove when he gave up possession of a certain mill in Virginia which he had owned & managed as his business & calling in Virginia, proved that prior to his said removal from Virginia he had sold the said mill to one Mussleman, but continued in possession of the same at the time of his removal and did not take possession of the mill purchased by him in this county till the 1st July 1813; and then offered to prove by prov that both the Deft & said Mussleman had told the witness, prior to the removal of the former in 1813, that possession of the mill in Virginia was to be delivered by Deft to Mussleman on the 1st July 1813. To the admission of which latter Evidence the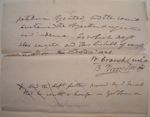 petitioner objected; and the court sustained the objection & rejected said Evidence. To which Deft also excepts: and this his bill of exceptions [torn page] &c. this 25th of Decr. 1828.
W. Cranch (seal)
B. Thruston (seal)
And the Deft further proved by T. Stuart that he rented a house in Geo Town &