Letty Brown v. John H. Lowe. Petition for Freedom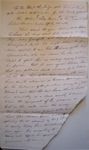 The Petition of, Letty Brown, for a her self & infant child Robert Brown respectfully sheweth.
That about the year 1817 or 1818, John P. Lowe she being about to be sold by her mistress, Mary Greenfield, and hoping to make an arrangement by wh: she might obtain her freedom, applied to one John H Lowe of the City of Washington (who now claims her & her child as slaves) to assist her in raising money to obtain her freedom; that it was agreed between them that your petitioners should advance forty dollars wh: she then had of her own money & the said Lowe should advance or become resp responsible for the balance of the purchase money (viz 210 dollars) and that the said Lowe should hold her nominally[?] as a slave mostly to secure to him the repayment of his advance, as fast as she could raise the money. That she has raised & paid to the said Lowe 235 dollars of said money (including the 40 advanced by her) & is ready to pay him the balance due upon his consenting to carry into effect his aforesaid agreement with her.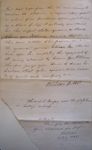 But that so far from this, he now claims to consider the advance or responsibility aforesaid as a bona fide purchase of your petitioner as a slave for life & actually now claims her & her infant child aforesaid, as slaves; Whereas your Petitioner concieves that she is, & has been entitled to her freedom ever since the agreement aforesaid between her & the said Lowe, upon her completing the repayment of the recovery advanced by him. Your Petitioner therefore prays your Honors to decree her freedom & that of her aforesaid Child & as in duty bound will ever pray &c
B.L. Lear for Petr
Thomas S. Bingey near the glass house is Letty's witness.
Wm Brent,
Please file this Petition & issue Subpoena for Deft.
B.L. Lear
16 July 1825.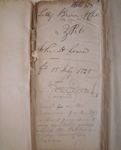 166 508.
Letty Brown & Child
vs
John H. Lowe
Petn
May 1826
fd 15 July 1825
(argued)
Judgt for on the Demurrer for the Deft without prejudice to any equitable relief which the Petitioners may hereafter have.