Sally Baker v. Charles Hay. Agreement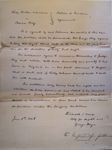 It is agreed by and between the parties to this case that the petition shall be dismissed. Mr. George Hay agreeing to pay the legal taxed costs in the case and the jail fees due for the detention of Sally last night.
The petitioners agree to surrender themselves to Judge Hay and return with him peaceably and quietly to his home in Virginia. he on his part promises to forgive what is past and if Sally behaves herself well to treat her with kindness.
The petitioner Sally having had her rights and her situation as fully explained and stated by her counsel and friends freely voluntarily and without any fear [illegible] or compulsion in open court waives her claim for freedom under the foregoing conditions.
Richard S. Coxe
Atty for defdt and George Hay.
June 8th 1826
Wm Bussard for petitioner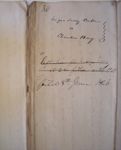 310
Negro Sally Baker
vs
Charles Hay
Left her for Judge Hay & not to be filed until &c &c
filed 8th June 1826