David Africana v. John Strother. Petition for Freedom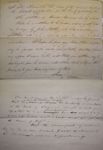 The Petition of David Africana humbly sheweth that he is entitled to his freedom and is unjustly held in bondage by John Strother, who holds and claims your Petitioner, and (as he is informed and believes) means to sell him as a slave. Wherefore he prays your Honors that a Subpoena may be issued, to the said John Strother directed, that he may appear & answer hereto, and that your Petitioner may be discharged from his service, and obtain such relief in the premises, as to your Honors may seem right.
Simms for Petitioner
On the prayer of the Petitioner, who proved that he was a Slave knew the Petitioner living as the property of one Davis in the State of Virginia about 10 or 11 years ago, & that he was brought seen & known here by about 6 or 7 years ago & has resided here ever since as the Slave of Deft
That the above facts, if believed by the Jury, are prima facie evidence of the Petitioner's claim to freedom.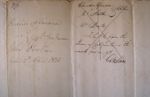 295
David Africana
vs
John Strother
Petn for Freedom
filed 11th April 1825
David Africana
v
Jno Strother
Petition
Mr Brent
File this & give the Bearer a Certificate in the usual form. yrs
Ch H Simms