Prince Gray v. Joel T. Gustine. Petition for Freedom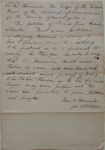 The petition of Prince Gray Humbly sheweth; That your petitioner is illegally detained in slavery by Joel T Gustine, though he is entitled to his freedom, as he is prepared to verify. He, therefore, humbly prays that this Honorable Court will take his case into consideration, and direct such process and steps to be taken thereon, as to his Honorable Court may seem proper and the Law has provided, & your petitioner will pray & c.
Jones & Forrest for petitioner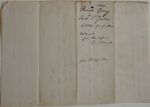 400
Prince Gray
vs
Joel T Gustine
petition for freedom
Mr Brent,
file this & issue
Jones & Forrest
filed 5th Sept 1820.