James Hutton v. William J. Belt. William Bainbridge to Richard S. Coxe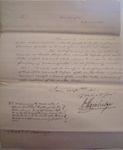 Washington
6 June 1825
Sir:
I know of no Law, or rule of the Department, which prohibits the employment of persons of color on board of our national ships.
The act of Congress "for the regulations of Seamen on board the public & private vessels of the United States" passed 3 March 1813— seems to recognize the rights of employing "persons of color" in the following words—
Sec. 1. "It shall not be lawful to employ onboard any of the public or private vessels of the United States any person or persons except citizens of the United States, or persons of color, natives of the United States"
I am resply. sir,
yr mo. ob. servt.
Wm Bainbridge
P.S. On examining the muster rolls, it appears that Jas Hutton joined the Columbus on the 14 Apl 1820, & left her on the 27 July following. during this period he was on the Books of the Columbus, as a supernumerary for provisions.
Richd. S Coxe esqr